Ouréval boasts over 50 years' expertise in processing sheet steel to produce metal parts in medium and large series. Discover our cutting and deep-drawing solutions on automatic presses.
Our advantages:
Quality
Rapid performance and delivery
50 years of expertise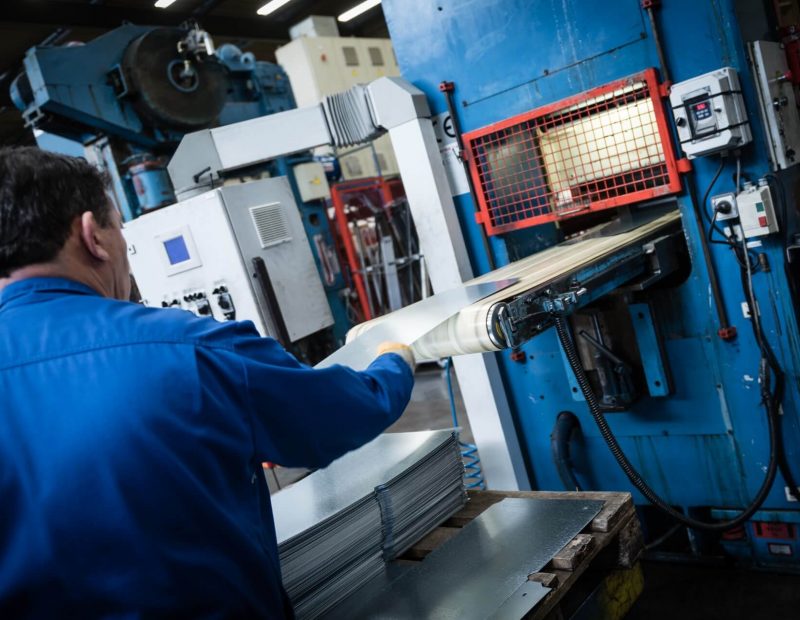 Cutting and deep-drawing of metal
Ouréval cuts and deep-draws parts on CNC automatic presses. This technique involves forming or cutting the sheet metal via the pressure achieved by closing a progressive die. This manufacturing procedure can create an object with a non-developable surface out of a flat, thin sheet of metal.
The procedure is ideal for medium and large-series production and is commonly used in the automotive sector thanks to its precision, workmanship quality and competitiveness. If our customer already has a tool, we can also deep-draw and cut parts once its feasibility and compatibility with our presses have been validated.
This method allows us to process various materials, such as steel, aluminium, stainless steel, coated sheet metal (galvanised, electro-galvanised, pre-painted). Ouréval can process sheets of metal with thicknesses ranging from 0.5 to 5 mm. We work with metal coils with a maximum width of 660 mm.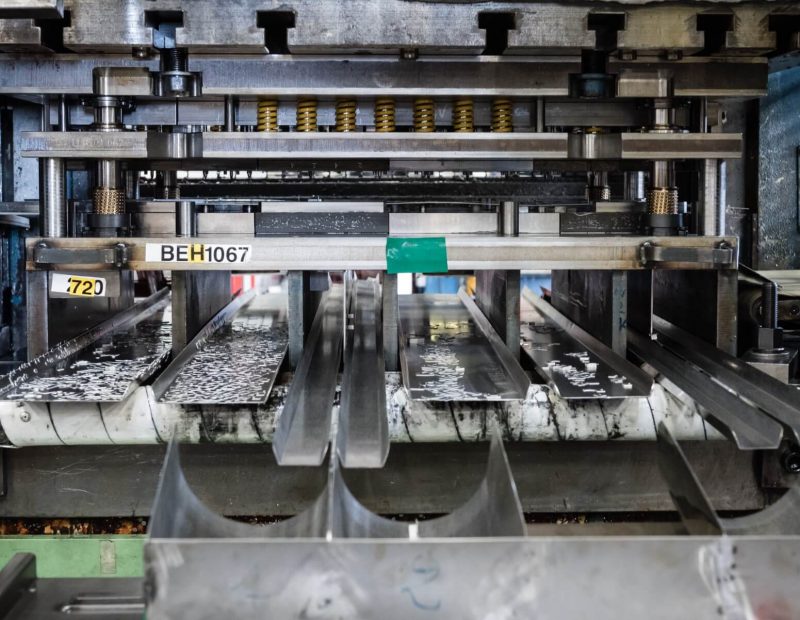 Cutting and deep-drawing press lines
Our cutting and deep-drawing workshop consists of 4 automatic press lines ranging from 100 to 400 tons. Equipped with finishing presses, we can create more complex metal parts which require an additional procedure.
We seek to establish a partnership-based relationship with our customers; therefore our design office demonstrates transparency regarding each project and never hesitates to suggest alternatives to reduce production costs.
We use a CAPM (computer-aided production management) system to ensure continued planning of the manufacturing process and to manage our stock.
During the production stage, our team carries out checks at regular intervals to guarantee the quality of the final products. As a supplier of parts which are crucial for our customers' business, we implement a just-in-time delivery strategy which offers flexibility and reliability.
By choosing Ouréval, you opt for a responsive French company which performs rapidly and prioritises the quality of its final products. Don't hesitate to contact us to discuss your project: our experts will be delighted to offer you the most suitable solution for your specific requirements.